by Emily Garibian, Summer Intern, Communications Dept.
I recently got a chance to be on the set where a new Public Service Announcement (PSA) was being filmed to promote the Red Cross Fire Prevention Campaign. (The objective of a PSA, as opposed to a commercial, is to educate and inform the public about social issues concerning the well-being of the community.)
The scenario for this PSA, which will air in English and Spanish, is that a Latino family is having dinner and the father takes that opportunity to show other family members how to check their smoke detector to ensure it's working correctly. Although we had some amazing actors, the star of the PSA is the famous "smoke alarm" that can save the lives of many when properly checked and inspected.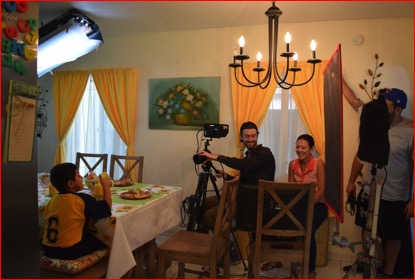 The day of the shoot started in the early morning. Before the actors arrived, the set designer and production assistants (that's me!) got the set ready. The main set was a living room where the actors were going to act out the family dinner scene. The one thing that really caught my attention was how much work goes into making a small or big production and how everyone plays such an important role.
With the helping hands of everyone, we got the props ready and a living room came to life. Now I must say, those days where I helped my mom put curtains up in our house came in very handy this day because the backdrop included two windows, and I got to help the set designer put them together (yay for helping mom!) As the day rolled on, and the set was finished, the actors got all dazzled up for filming. The cast was amazing and we all had a great time watching them perform. I even got to sneak a selfie with the sweet and funny Maria Dakis, who was playing the little girl in the family.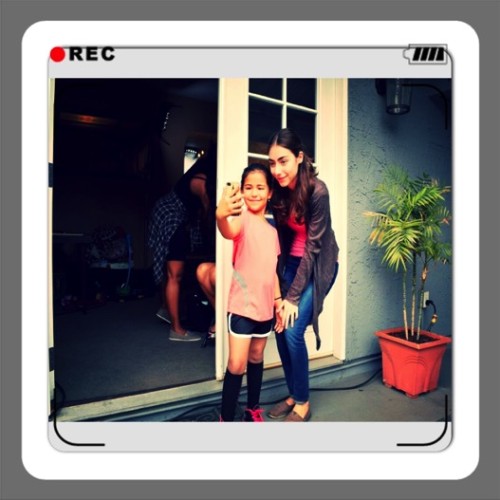 I have to say it was pretty fun spending the day behind the scenes and watching all the magic from the actors, director of photography, producer, director, co-producer, and everyone else involved who brought this vision to life. On behalf of the Red Cross, the smoke detector helps protect your family to stay safe, so check it once a month and create a fire escape plan with your family.
Look for the PSA to air in the coming months on TV and then make sure you tweet @RedCrossLA and provide your comments! For more information in Spanish on how you can educate yourself and spread the knowledge to keep yourself and others safe, visit CruzRojaLA.org. Special thanks to Tangible Media Works, Inc.