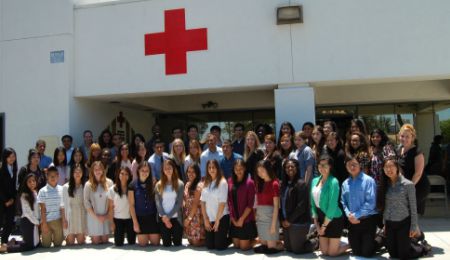 by Zoe Miller, Communications Dept. Summer Intern
Now in its sixth year, the Red Cross LA Region Summer Internship Program (SIP) has grown considerably since its beginning.
With 55 interns working in 11 Red Cross departments and hailing from high schools and colleges around the country, it's a far cry from the original 13 interns who participated six years ago. With the program set to end August 14, 2015, I interviewed a cross-section of interns to gain a better picture of the Red Cross SIP experiences.
Meet the Interns
—Kevin Kerr is a Disaster Services intern who goes to Pomona College. An experience that stands out in his mind during his internship was a call that he went on to a house that had burned down. Kevin says that he "admired the calmness of the head of the household who handled the situation. She had just learned that her house had been on fire and was already thinking of the next steps to take. It really demonstrated how resilient people can be."
–Annie Niu is a Social Media intern in the Communications Dept. She is home schooled, which makes her unique among the interns. She has worked with the Red Cross youth program in various ways since seventh grade. "There's not any other place that I would rather intern," Annie explained to me when I asked why she chose the Red Cross Internship Program. She writes posts for the LA Region social media pages and finds it interesting to tabulate the number of times the Red Cross is mentioned in local and national media.
–Aquiel Godeau is a Disaster Cycle Services Intern who goes to Poly Tech College in New York. This is her first time working with the Red Cross.  She joined the Red Cross internship program to gain more experience in disaster management. "What I found most interesting is working with the client assistant cards. We put money on (them) and give to all our disaster clients after the disaster so they're able to have some sense of independence after all that has happened."
—Zion Perri is a Community Outreach intern. He goes to Orlando High School in Florida and this is his first time working with the Red Cross.  He became a Red Cross intern to help the community and is working on an informational video to help people get prepared for disasters.
—Daniel Palmieri is a Disaster Services intern. He's a student at Penn and has been a part of his school's Red Cross Club. He was specifically interested in becoming a disaster intern because it would allow him to help people directly. "There's a lot of behind-the-scenes action going on at the Red Cross" Daniel says, "but personally I'm just more interested in getting to interact directly with people."
—Ariel Wei is a Social Media intern who goes to San Marino High School in the San Gabriel Valley. She's the publicity chair of her school's Red Cross club and became a Red Cross intern both because of her personal experience with the organization and in order to get experience in the workforce. Right now, she's working on the LA Red Cross Instagram.