By Saida Pagan, Red Cross volunteer 
The journey from American Red Cross donor and ardent supporter to the ultimate in volunteerism — serving as an American Red Cross Los Angeles Region Board Member — has been a long, insightful and deeply personal one for Wendy McMahon, President of ABC's Owned Television Stations Group.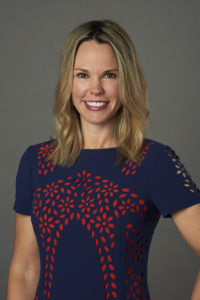 "I loved the notion of being part of something that I believe in," McMahon said. 
She is truly impressed by the caring and sense of humanity that the Red Cross displays in times of crisis.  
"It's really quite incredible to see the network that is the Red Cross — how it stands up, in such a formidable way instantaneously in these moments." 
McMahon was appointed to the Red Cross LA Region Board of Directors in 2020, and she couldn't be more thrilled. The board seat has been held by the Walt Disney Company for many years in keeping with the Burbank-based corporation's reputation as a strong supporter of the outstanding crisis-driven work performed by the Red Cross.  
"I've always had such admiration for that and to now be in a position where I can personally demonstrate my gratitude, my respect for the organization — be a volunteer, be of service — I'm incredibly proud to do that." 
The Red Cross first earned McMahon's respect decades ago. As a young TV executive moving up the career ladder at stations from Boston. to Savannah, GA, McMahon's often worked hand-in-hand with Red Cross volunteers — helping the organization by arranging for on-air time to raise money for emergency food and supplies.  
"In each and every case when there is a crisis in a city, it's really impressive to see how the Red Cross immediately surrounds and supports and builds a scaffolding of sorts around those who are impacted and affected," McMahon said.  
Until 2005 though, most of McMahon's experiences with the Red Cross were on a professional basis. All that changed in a big way when Hurricane Katrina hit Louisiana. 
"Until it happens to you, you can never quite envision yourself being in that position."  
Life was turned upside down and McMahon's hometown of New Orleans was devastated. The Red Cross was there from the beginning — as a beacon of hope, ready to help. 
"Of the millions of people who received emergency assistance through the Red cross when Katrina hit New Orleans, my family received that assistance," McMahon said, recalling the emotional, harrowing experience. "I couldn't be there; I was actually working in Minneapolis, at the time. The fact that the Red Cross could assist, serve and respond — I've always been so grateful. There was such peace in knowing that they were there, and they were there to help my family." 
McMahon's parents and brother as well as other members of her large and close-knit family had to evacuate Louisiana. Some were even taken to Texas to escape the ravages of the hurricane. The following weeks were a trying time for everyone, and through it all the Red Cross was the one constant — the go-to-organization that was always there for McMahon's family. 
"The Red Cross, whether it was my parents, my grandmother or my extended, was ultimately the solution in those early days of where they would have their first meals, where they would spend the night and how they would be transported from one shelter to another." 
Since then, McMahon has been a consistent donor to the Red Cross and has not missed a chance to share her family's amazing and inspirational Red Cross story. It is filled with examples of the organization's caring, comfort and service to others. For weeks, McMahon's family lived at a Texas church that that was sponsored by Red Cross. 
"The church took care of food and shelter just through the kindness of their hearts and with the support of course of the Red Cross…. My mother and my grandmother always look back on that experience with gratitude." 
Now as a Red Cross board member, McMahon can bring both her personal and professional experience to the table to inform conversations about the Red Cross mission and its future. So far, she has been especially impressed with LA Region volunteers and administrators. 
"They lead with purpose, they volunteer with purpose, with such compassion and energy." 
McMahon is clearly proud to be on the board, and is also looking for additional ways to serve the Red Cross. 
"I really want to find a way to volunteer my time in a more direct way. I know there will be opportunities to do that…and learn as much as I can." 
McMahon said she will find a way to accomplish her goals by bringing to her board position the same dedication that she brings to her job as a top TV executive. 
"That sense of purpose is very important to me, and I have that same sense of purpose in my Red Cross board seat. It just feels right."